The 6th Annual Content Marketing Conference is right around the corner. And with this year being bigger and better than the previous five, you'll want to make sure you have a seat at the conference. Hosted at the Boston Westin Waterfront Hotel, space is limited, so you'll want to act soon to register yourself. 
With the latest and greatest information concerning all things content marketing, if you want to take your personal or professional content marketing to the next level, all the tips, tricks, and insights will be passed on to you by some of the biggest names in the world of Internet marketing. Here is just a bit of what you can expect at this year's Content Marketing Conference.
Big Name Speakers Provide The Latest Insights
There are 70 individual speakers planned for the latest edition of the CMC. Each of these speakers offers an overwhelming wealth of information designed to help you and your future content. Some of the speakers you can expect include Tamsen Webster, Ann Handley, Michael Albanese, Nancy Harhut, Josh Bernoff, and Ashley Faus. 
Beyond the speakers, there will be a full tons of sessions, 7 workshops, 6 keynotes, and plenty of tracks taking place throughout CMC 2020. This way, while you won't be able to make it into every event and speaker taking place, you can customize your track and take in activities that are in line with what you do in your business and the kind of information you're interested learning about. 
Fortifying Your Brand
More now than ever before, customers want to trust their brand. With data breaches and tech leaks occurring seemingly on a daily basis, consumers want to know the companies they do business with are ones they can trust. However, they also want to forge an emotional connection with the business. You can do this in a number of ways. From telling a personal story they can directly relate with to making them laugh, you need to discover how to put a humanizing face on your business. At the 6th annual Content Marketing Conference, that's exactly what you'll learn.
Why Does Writers Access Facilitate The CMC?
Writers Access understands the importance of educating business owners like yourself in the ever-changing world of content marketing. You run a business that more so than ever before requires a strong Internet presence. As business has shifted away from regional competition to a national, if not international competition, the need for a commanding Internet presence isn't just necessary but critical to your company's survival. 
Search engines and social media platforms don't always advertise changes being made to website rankings and how advertisements are placed, which leaves business owners guessing why their top-ranked blog post is not even listed on the front page of Google any longer. You have enough on your plate as it is, and yet you and your employee's livelihood depends on it. 
An informed business owner in the world of content marketing will make better decisions and also realize they may not be the best content creator to get the job done. WriterAccess helps keep you educated with the latest changes in content marketing, and at the same time, they put you in touch with some of the very best content writers as well. 
The information to help you thrive in the world of modern business is available for you at the 6th Annual Content Marketing Conference. What you do with this information is up to you.
Reserve Your Place Today
Content marketing is continually shifting. Google is always tweaking and altering how it ranks websites, so what worked last year will not always work for you this year. Add on the shifting world of social media, new changes in YouTube requirements, the potential removal of likes on Instagram and Facebook, and the trend of some demographics moving away from certain service providers and you have a potentially confusing content marketing world if you're not in the know.
So get two legs up on the competition by registering yourself for the 6th annual Content Marketing Conference. It isn't just a fantastic opportunity to network and come face to face with major players in the marketing world, but it will provide you with answers your competition simply won't have.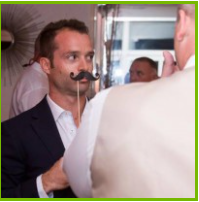 Greyson F. has been writing online content for over eight years and has extensive experience writing in a variety of formats. These formats range from travel reviews and how-to instructional essays to professional journals and academic papers. Major publications such as USA Today, Yahoo!, IBM, Google and others have all produced his work.