Seventy percent of marketers believe that their content is not effective. This is a compelling statistic cited by Chad Pollitt, vice president of audience and co-founder of Relevance, an agency providing content promotion and digital marketing strategy solutions. Pollitt spoke about a need for companies to have an overarching strategy with Content Distribution in his presentation, "How to Develop a Comprehensive Content Promotion Strategy" for the 2016 Content Marketing Conference. Pollitt believes that if you use native advertising and third-party solutions to get your content in front of your audience, you can dramatically improve your reach in a content-heavy world.
Paid Media
Pollitt calls attention to Google's so-called "Zero Moment of Truth." In traditional marketing philosophy, buyers have three moments of truth: going to a product or service, having an experience with that product or service, and telling friends and family about the product or service. The infamous ZMOT describes Google's realization that 70 percent of a customer's research into a product or service happens prior to that first moment. Pollitt claims that this is why content marketing exists. Unbranded content helps prospective customers to solve their problems. The trouble, he argues, is that companies spend so much marketing dollars at the bottom of the funnel, without investing much on distribution. Native advertising is the future, he says, with channels that are built for top-funnel content. You can take advantage of it with in-feed units and recommendation widgets.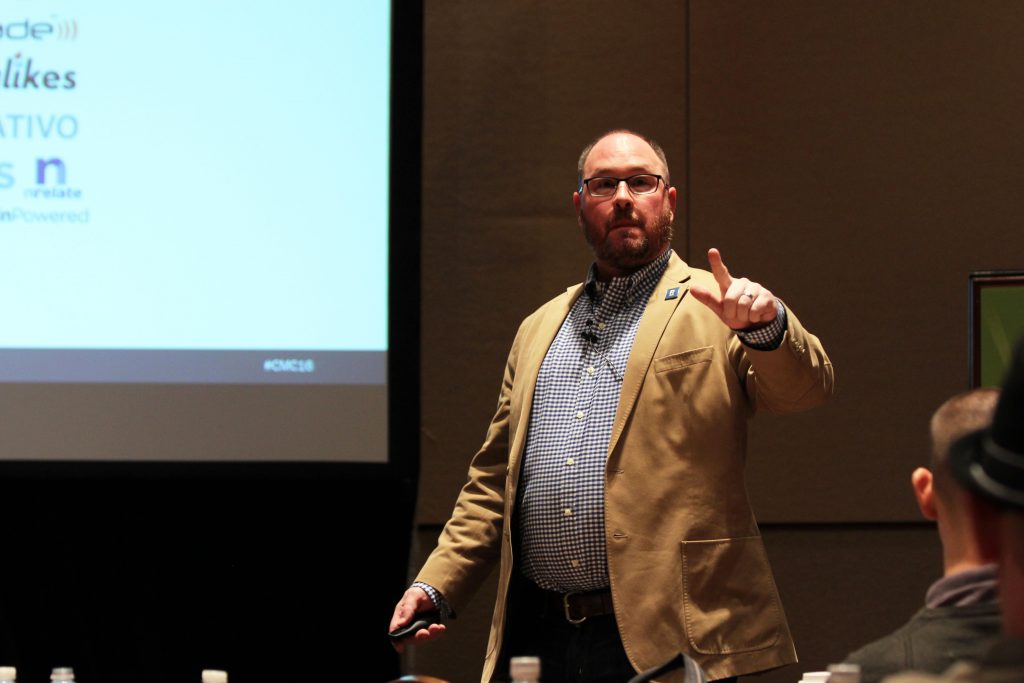 Problems & Trends
With the recognition of Google's epiphany, businesses realized that they needed to locate and fulfill their customers' ZMOT. However, too many simply focused on providing a platform for content, not really identifying what their customers needed. "We were lied to," Pollitt states. "We were told that if you build it, they will come. If you are a snail farmer, you can probably build it and they will come." Everyone else needs to invest more into their distribution campaigns. The trouble is that about a third of companies do not even have a documented content promotion strategy, to show how they are working to distribute the content they create to the right markets.
Pollitt notes that television advertising spends five times as much on distribution as production. However, companies invest over five times as much on content creation as they do on distribution for that content. Pollitt believes that content promotion budgets should be at least 1:1. This gives your business a better chance at a succeeding in a world where content on the Internet is expected to quintuple by 2020. With organic reach on Facebook at 2 percent and dropping, Pollitt says, "SEO is not something you do anymore. It's what happens when you do everything else right."
Research
How do you solve all of these problems with your content promotion strategy? Pollitt suggests you start with some detailed research on your audience, media, competition and trends. Start with your audience, with personas and the buyer's journey. Look at your competition, and the gaps in the services provided by them to your audience, as well as opportunities for you to promote content. Keywords are so tricky at the moment. Look to see which keywords offer opportunities to reach new customers, without having to face as much competition. Pollitt says that there are three types of content media: content coverage, content distribution and broadcasting. You should focus as much as you can on coverage and distribution. Identify trends and use third-party sources to distribute your content. There are networks like Outbrain and Taboola, or organizations that tap into other networks, such as Zemanta, OneSpot and Keywee.
Promotion
Pollitt recommends that you recognize the fact that content is not king. Instead, he says that your audience rules the day, "It is about getting in front of an audience and getting them to be your audience." In order to accomplish this, Pollitt argues that you need to use:
content coverage- media relations, influencer marketing, bylined articles
content distribution- native advertising, sponsored content, press releases
broadcasting- social media, email
However, he warns that you should not emphasize social media above all else, especially if you plan to distribute your content at scale. If you are willing to make the investment, paying for sponsored editorials on Forbes, Huffington Post, Business Insider and others may be the most practical way to persuade your audience to follow you. Pollitt believes that the more your advertising looks and sounds less like advertising, the more your readers will stop to pay attention.
Chad Pollitt thinks that the creation of a robust content promotion strategy may make the difference between building your audience and speaking to an empty room. He argues that using native advertising, analyzing content distribution trends, researching your competition and your audience, and taking advantage of third-party solutions are your best bet for content promotion that generates a decent return on your investment.