While there were many great stories from amazing thought leaders circulating around the Content Marketing Conference 2016, the "Unicorn Rocket Technology" outlined by Larry Kim, Founder of WordStream, was one of the more memorable tales. Part movie stills from "The Martian," part hilarious memes and all solid social media marketing tips, his presentation took listeners on a  business-boosting journey that was, quite literally, out of this world.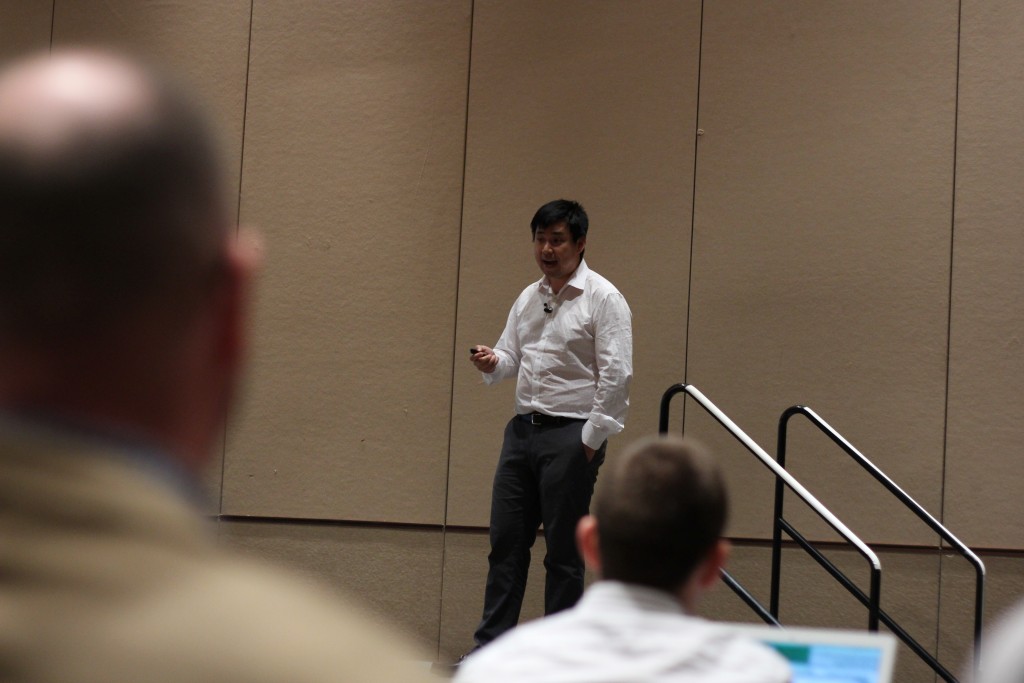 Here are Larry's 10 secret tips for building a high-powered "Unicorn Rocket" of your very own, all from the comfort of your earthbound office.
#10 – Find your unicorn(s). The Unicorn in this equation refers to your best-producing content, as it stands right now. Larry enthused on the power of the top 1% to 2% of your existing content – by scale and interest, not a specific numeric metric – in his session. These, he explained, would be what actually comprised your successful social media marketing – your "rocket" – that would interest and engaged customers for a minimum spend and an excellent ROI. He cautioned against trying to "respark" losing and low-interest content, calling these donkeys in contrast to unicorns; money doesn't have to be divided evenly among marketing attempts, and can and should be proportioned according to content's past performance, not hopeful future performance. Larry admonished that chasing after – and trying to prop up – past content that failed in comparison to your unicorns will quickly send you in a "donkey spiral" of throwing good effort after bad, marketing-wise.
#9 –  Exclude unlikely demographic reach. This Premium Unicorn Kisses Rocket Fuel helps increase smart spend by eliminating audience demographics that aren't likely to respond or show interest.
#8 – Use social media ads for free clicks. Calling these the Solid State Booster Rockets, Larry pointed out that few companies take advantage of paid impressions on social media, not realizing that each retweet make their unicorn content visible to exponentially larger audiences.
#7 – Use precise ad targeting for context. Defining H.I.T.S. as "How Idiots Track Success," Larry explained that his Secondary Stage Booster Rockets required use of in-depth dashboards in social media platforms, such as Partner Audiences on Twitter, or Facebook's Demographic Ad Targeting interface. Carefully setting these options for maximum penetrative power would ensure a theoretical anchor company, for example, would show its ads to individuals that had just purchased a boat, rather than non-boat owners in landlocked states.
#6 – Show unicorns to custom audiences. Just as using the precision UI targeting in the previous step eliminated audience dissonance, turning to "Tailored Audiences" on Twitter or "Custom Audiences" on Facebook is a quick and easy step to limit the visibility of a message to a specific, high-interest group for a "warm" reception. This functionality – Larry's Ion Boosters – also reduces  issues such as newsletter unsubscribes from individuals that either felt inundated with too many email blasts or had minimal interest to begin with.
#5 – Save fuel by letting others do the work.  Likening news aggregator sites to an Earth Gravity Assist, Larry drew correlations between the fuel-saving "slingshot" maneuver used by space shuttles to sites like Medium, LinkedIn and Pulse. When a piece of his unicorn-level content was picked up by these sites, Larry used a bot to scrape the most active users on those sites and created a custom audience out of them, circling back to the previous tip.
#4 – Use machine language-enabled algorithims. Larry cautioned that this was an advanced step, his Lunar Gravitational Slingshot and explained it wasn't necessarily for every marketer. Using tools such as Rankbrain to set expectation can help clearly illuminate a path to success. He also mentioned that beating Google's clickthrough expectation for a piece of content (as defined by aforementioned tools) by a mere 3% can actually move a site up an entire position in SERPs!
#3 – Use hard offers in social media remarketing. Drawing a comparison between the Mars Ascent Vehicle and the familiar function of re-broadcasting ads to "warm" leads, Larry stressed that hard offers – sign up, book a consultation, download this e-book and so on – work best in this setting. They push the potential customer to make a decision, rather than relying on passively reminding them of information.
#2 – Combine previously narrowed audiences into a super audience. This step involves determining, via research in previous steps, which members of your reachable audience share three things: interest in your product, a recent interaction with your brand or site, and the ability to afford and purchase your product. This is your Mars Intercept – your super-engaged unicorn audience with the shortest distance to travel on the road to conversion.
#1 – Use RLSA (Remarketing Lists for Search Ads). This Mars Slingshot to Home move is, much like machine language-enabled logarithms, an optional one and dependent on skill and need from company to company. It involves using created lists to determine who recently visited your site and showing said users custom ads through Google in order to entice higher conversion from an already-primed audience. Larry recommends combining this move with social media impression buys in order to increase reach and maximize ROI!
An incredible journey that sent Matt Damon, mythological creatures, beasts of burden and the entire audience halfway across the galaxy in search of the best ROI, Larry's presentation is one that was even more incredible as a live audience member. If you're curious about seeing other industry-leading sessions just like this one, register now for Content Marketing Conference 2017!