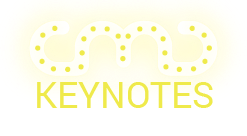 2019 Keynotes
(2020 Keynotes Coming Soon)

Keynotes That Inspire.
Talks That Transform.
More than 20 keynotes will take the stage at CMC 2019, delivering the insights and inspiration we need to rid the world of all this bad content and create more engaging content that keeps readers coming back for more. They all have the answers we need to EVOLVE content marketing.

Founder/C-Level

19%

Director

24%

Manager

30%

Individual Contributor

27%
Marketing & Advertising

27%

Software/Technology

20%

Nonprofit/Healthcare/Edu

19%

Professional Services

13%

Construction

6%

Financial

5%

Other

10%
1-50

30%

51-1000

40%

1001-5000

18%

5001+

13%
Good insight and valuable tips that are not necessarily available in the public domain yet.
Stehen Turcotte
An excellent conference all round that provided both novices and those already engaged in content marketing deep insights and actionable strategies to achieve success.
Amit Vyas
CMC is worth every minute and investment of time and attention. Start planning for next year's early, you'll be submerged into a pool of networking, priceless business growth ideas and exceptional mentoring.
Deborah-Lynn Senger
Updates
and

Announcements.