Sarah Cooper is one funny lady. As a successful comedian and author, she is a welcome addition to the Comedy Keynotes this year at the Content Marketing Conference for 2020. Living in New York City more specifically in Brooklyn, she hosts a monthly comedy stand-up show called "You're so Brave." If you can catch this show, whether you live in or are visiting NYC, it's well worth your time to have a few laughs on a fun night out of comedy. 
Her background before she became a comedian full time included working at companies like Google and Yahoo for quite a few years. Much of her act is taken from her experiences getting lots of free lunches and coming away with funny observations about office life from her time there. 
One of the best videos is on her website called, "How to Dance at Your Office Holiday Party." Needless to say, she's only a tiny bit better than how the character Elaine used to dance on "Seinfeld." Disastrously funny. 
Her Comedy Books are a Must-Read 
As a best-selling author, her two essay style books are called "How to Appear Successful Without Hurting Men's Feelings," and "100 Tricks to Appear Smart in Meetings." You can purchase both of those on her website or at Amazon. If you are more into adult coloring, pick up her coloring book "Draw What Success Looks Like: The Coloring and Activity Book for Serious Businesspeople." All three books are highly entertaining and witty with keen observations about life in the corporate world. 
A Satirical Blog Called "The Cooper Review" 
Sarah also runs a satirical blog website called "The Cooper Review." It mainly talks about office humor, lifestyle topics, and some politics. One of her most recent posts was a hilarious holiday guide on "How to Pretend You Like Your Secret Santa Gift." 
She also has helpful posts on the "Top 5 Smartest Excuses on How to Get Out of Work." There's lots of visual comedy and memes on the site as well to keep you entertained, or when you need a break from all that difficult content strategy brainstorming. It's definitely a comedy website worth checking out. 
Plus, you can also sign up for her weekly newsletter, which promises to be anything but boring directly to your email inbox. It sure beats all those random pharmaceutical emails and everything else lame that you want to delete into the trash right away. 
Tweets That Slay
With an active Twitter feed (@sarahcpr) and 55,000 followers, you can be entertained by Sarah's daily musings on just about everything. She also routinely polls her followers on random funny things, talks about her husband, and clearly adores her new puppy. 
The Content Marketing Conference knows that Sarah Cooper will be one of the highlights during the Comedy Keynotes speakers. You aren't going to want to miss her standup during the Comedy Club at the Laugh Boston right at the Westin on April 22 at 8 pm. It promises to be a fantastically funny evening. 
---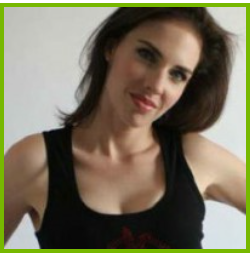 Kelly R. is a Beauty Editor and experienced copywriter, with a keen eye for creating all kinds of marketing content that sells. Having a background in journalism, she has written for many different online and print publications including Allure, Mode Magazine, Working Mother Magazine, Seminole, and The New Yorker. As a published author, her book on beauty and style is available at bookstores nationwide and at Amazon and Barnes & Noble stores.