Conferences and live events are best for learning and networking. But the world has changed. That's where the CMC Portal comes in— a member-only community for content marketers offering a digital experience for on-demand learning with full access to CMC 2017-2020 recordings, decks, certifications, and resources. And the virtual stream of CMC 2021 in Boston on April 27-29 for ticket holders.

Start The Learning Now
Access to CMC 2017-2020 Recordings
168 CMC Sessions, Decks, and Transcriptions
49 CMC Keynotes and Transcriptions
10 Workshop Decks and Transcriptions
Content Strategy Masterclass Certification
Dozens of Templates and Resources

All Yours Until April 2021
Membership until April 29, 2021
CMC 2021 Boston Live Stream
Workshop Webinar Recordings
Exclusive Member-Only Content
Special Offers and Promotions
Invites to Exclusive Events


The CMC Digital Portal is for you.


All skill levels welcome.

Not able to achieve enough success to secure more funding
Getting started, but need a clear roadmap for success
A great writer, but need to take your career higher
In need of great templates and samples that will guide
Under pressure to deliver return on content marketing investment
Want to do your part to rid the world of all this bad content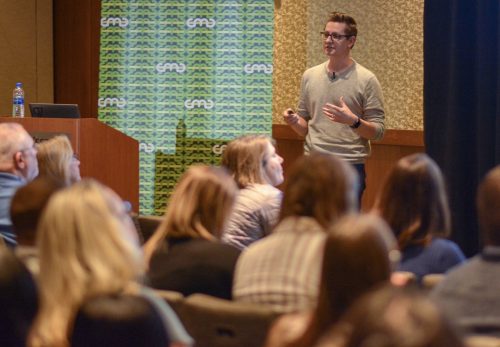 CMC 2017-2020 recordings.
Wisdom at your fingertips.

Access all the CMC video recordings for 2017-2020, including 49 keynotes, 168+ sessions, 10 workshops and Q&A recordings with Ann Handley, Andrew Davis, and Andrew Tarvin. You'll also get access to 16 comedy keynote recordings and another 6 comedy club comedians featured in 2020.
BONUS: Download the slide decks and/or read the transcription of each session to quickly find the tactics you want to put to work.

Take the content strategy masterclass.
Learn the secrets for content marketing success.

Joining CMC Academy connects you with like-minded marketers that want to end the world of all this bad, boring content. Simply join CMC Academy and complete our signature Content Strategy Masterclass by September 15th. And get all the tools and resources you need to grow your business organically—the content marketing way.
Here's What You Get with the Content Strategy MasterClass
Content Strategy MasterClass Workbook
Content Strategy MasterClass Book by Byron White
Two Content Plans, one for SMB's and one for Enterprise Customers
Sample Customer Journey Maps, Buyer Personas and Keyword Maps

Get all the resources.
Start the learning now.

Sure. The recordings and masterclass are pretty cool. But there's a lot more under the hood at CMC Digital. You find a bundle of content plans, guides, templates and samples for reference that will help you craft a custom strategy to grow your business.

All the training you need.
And big bang for the buck.
It's hard to put a value on how the recordings and resources in CMC Digital will help you advance your career and grow your business. But we gave it a shot with the snazzy recap below of what you get (and don't have to pay for) when you buy even ONE ticket to CMC, which comes with unlimited access to CMC Digital.
Get all these recordings
2017 Sessions, Keynotes
2018 Sessions, Keynotes, Workshops
2019 Sessions, Keynotes, Workshops, Interviews
CMC 2020 — DIGITAL EXPERIENCE
Ticket Price
$1,499.00
$1,499.00
$1,599.00
$1,599.00
Travel Cost
$2,500.00
$2,500.00
$2,500.00
$2,500.00
Total Figurative Value: $16,196.00
Just look at what you'd have to pay to access all the content above. Turns out that tactics like this work to showcase value and motivate sales. And YES, you'll learn about tactics like this in CMC Digital as well as conversion boosters for marketing success.


Founder/C-Level

19%

Director

24%

Manager

30%

Individual Contributor

27%
Marketing & Advertising

27%

Software/Technology

20%

Nonprofit/Healthcare/Edu

19%

Professional Services

13%

Construction

6%

Financial

5%

Other

10%
1-50

30%

51-1000

40%

1001-5000

18%

5001+

13%

CMC is worth every minute and investment of time and attention. Start planning for next year's early; you'll be submerged into a pool of networking, priceless business growth ideas and exceptional mentoring.

Deborah-Lynn Senger
Senger Financial Recovery Service
Truly enlightening. Tons of great, insightful speakers giving actionable tips and highlighting great content marketing hacks.

Jackie Jaquez
Marketing Manager, Pioneer Infotech
An excellent conference all-around that provided both novices and, for those already engaged in content marketing, deep insights and actionable strategies to achieve success.

Amit Vyas
CEO, Company Nexa, Dubai
Good insight and valuable tips that are not necessarily available in the public domain yet.

Stehen Turcotte
Year after year, CMC has proven to be an eye-opening, and hilarious, event, for speakers, attendees, and sponsors. Byron and the team understand the importance of selecting the best speakers and keynotes, and creating an environment for them to perform at the top of their game. From production to promotion to entertainment, CMC is tops on the list of marketing conferences, and one of my favorites.

Andrew Tarvin
CMC Keynote and Author of Humor That Works