According to one recent study, approximately 85% of all Internet users in the United States say that they watch video content on one of their devices at least once per month. Not only that, but about 54% of consumers say that they actually want to see MORE video content from the brands and businesses that they support.
Thanks to both the rise of mobile devices and the prevalence of high-speed Internet connections, video marketing has become the new norm over the last decade. It's far more emotional than text alone, which makes it a much more engaging experience as well.
But of course, even the best video content in the world ultimately won't do a brand any favors if they don't have the best possible platform to get it out into the world. For so many organizations in just about every industry you can think of, Vidyard is that platform for a number of reasons, all of which are worth exploring.
Who is Vidyard?
Originally launched in 2011, Vidyard actually began life as a fourth-year design project from students at the University of Waterloo. Sensing the need for a better way to both host and analyze video performance in the quickly escalating mobile era, founder Michael Litt was able to raise $1.65 million in seed funding from investors after graduating.
All told, Vidyard offers a number of notable features, all of which have become increasingly important in the fast-paced and engagement-driven era that we're living in. Their primary offering is video hosting in that they allow a business to get its videos onto the Internet and in front of customers as quickly as possible. But Vidyard also includes tools that are great for:
Video creation. Vidyard allows users to record their screen or use a webcam or some other type of external device.
Video personalization. Vidyard offers a number of notable features that help brands create unique experiences for every viewer, no matter what.
Live streaming. Vidyard is also the perfect opportunity to broadcast both internal and external events to the widest possible audience.
Why Vidyard Matters For Content Marketers Everywhere
Business customers everywhere love Vidyard for its innovative approach to online video hosting. The platform offers not only ad-free hosting but also lightning-fast load times and high-quality video streaming that helps brands make the best impression possible at all times. Vidyard is also compatible with a wide array of formats that others are not, like MP4s, MOVs, and WMVs, just to name a few.
Vidyard also includes a number of notable features that help create a more secure experience as well. Customers can manage permissions and access to folders based on someone's role within a company, making sure that the only people who can view a video before it goes live or work on a project are those who actually need to do so in order to do their jobs. Likewise, password and SSO protection are offered to better control access to your video content on an ongoing basis.
Likewise, Vidyard includes native integration with a lot of the tools that businesses are already using. Just a few of the systems that Vidyard works incredibly well with include notable names like Outreach, Groove, Microsoft Outlook, Salesforce, SalesLoft and more.
In terms of video distribution, obviously one of the most notable parts of the Vidyard platform comes by way of its robust online video player. Not only can this fully responsive video player be embedded anywhere, but it also offers support for 4K resolutions, 360-degree videos, and more.
But content hosted in Vidyard can also be easily embedded on your website, inside a knowledgebase, in a company portal, or wherever else you might need them. You can also get videos into your emails in just a few quick clicks with providers like Gmail, Outlook and more – all without needing to worry about using attachments or downloads.
Finally, Vidyard includes a number of important tools that make it invaluable for modern marketers. The video alls to action feature allows you to add buttons, links, and more – all so that you can easily point viewers in the right direction after they finish watching your content. You can also automatically optimize your videos with captions and metadata for SEO purposes and include automatic transcriptions to help make sure that your content is as accessible as possible. Powerful analytics dashboards also allow you to gain insight into your video performance like never before – thus creating an easy way to see exactly which of your efforts are working and, more importantly, which ones aren't.
Meet Vidyard at CMC 2021
You'll find the team at Vidyard to be verified experts in helping build and maintain those invaluable human connections with your customers – even when you can't be there in person.
So if you're interested in hearing more about their insights about where video marketing is headed in the not-too-distant future, or if you just want to speak to them directly about a better way to add video into your emails, your website and everywhere else for that matter, be sure to stop by and see them in person at Content Marketing Conference 2021 where they'll be a proud sponsor!
Not registered for CMC 2021 yet? Register now for the lowest prices of the year.
---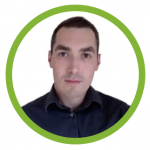 Stephen L. earned his Bachelor of Arts in Film and Video Production at the University Of Toledo College Of Performing Arts in Toledo, Ohio. In addition, he also worked for a big box electronic retailer for three years specializing in high definition audio and video equipment as well as computers and software. He has created almost ten thousand pieces of SEO-driven content for various online clients on topics ranging from the entertainment industry, electronics, computer operating systems, and general technology.